Albrecht Hanusch in Morristown and Williams AZ, Valedon NM, Scotia CA and Chicago IL
Searching Information from this Albrecht Vladimir Hanush (Hanusch, Hanuš)

About him
Albrecht Vladimir Hanusch born 6. February 1887 in Porici (Parschnitz), district Trutnov (Trautenau), Bohemia (Böhmen).
He emigrated in 1902 to America

His way in America, how is known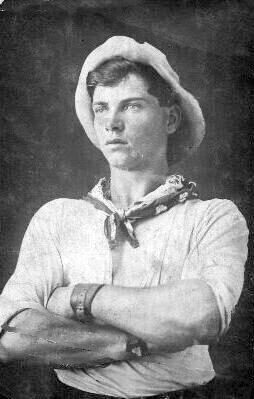 Albrecht Hanush (changed spelling) was Cowboy in 1909 near Morristown, Maricopa Co. Arizona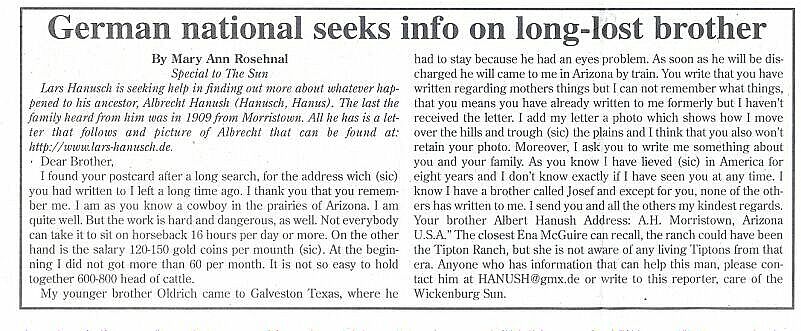 We have tries to find informations with an article in the Wickenburg Sun with an letter from Albrecht to his Brother Josef Hanusch to Germany.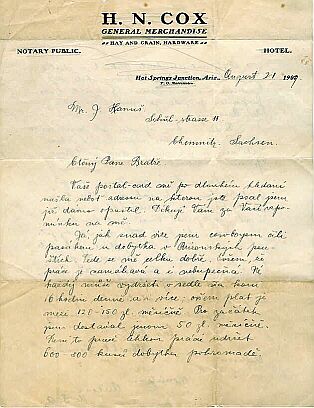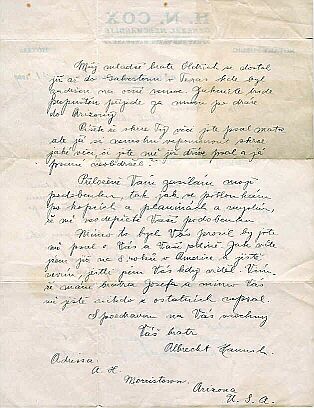 The Original Letter from Albrecht, how translated in the Sun.
Directories from Morristown:
30 Inhabitants, Residents: D. Ainsworth; H. Ainsworth; Louis Allers; Henry Barrett; Henry Berry; Charlotte Cotterley; Hn Cox (Postmaster); thos Crook; JL Cummings; JJ and Mrs. JJ Hankey; Louis Hartung; RE and Mrs. Humphrey; Jas A. and Mrs. Hunter; NB Johnson; EE King; IL McDowell; Ed Nagel; Swan and Mrs. Nelson; M. Pachan; SS Rogers; Andrew Selim; H. Smith; IL Smith; Frank and Mrs. Trasher; Jas. Tipton;
Population: 30; a post office on the SFP & P Ry (Santa Fe, Prescott & Phoenix)
Station name for which is Hot Springs Junction, 43 miles northwest of Phoenix; Express WF & Co; Telegraph Wh. HN Cox.
Business: Castle Hot Springs Company; Cox, HN, Gerneral Merchandise; Hotel; Postmaster, and Liver; Hunter; CE, Station Agent.
1910 Arizona Census, Maricopa County, ED 78, Page 12, Wickenburg Precinct 2:
M. Harry Cox,Mary Norton; Weber Norton; Nicholas Dyer; Charley Yosheda; Charlotte Cotterley; Frank A. Th...; H. Henry Appel; E. Harry Buckingham; J. Thomas Hill

His brother
Oldrich (Ulrich) Alois Hanus (Hanusch)
immigrated to America at 13. Aug 1909 in Galveston TX with the ship Breslau. He would
travel then to his brother to Morristown, but after an residence in the Galveston hospital, he must back to Europe because an eyes sickness.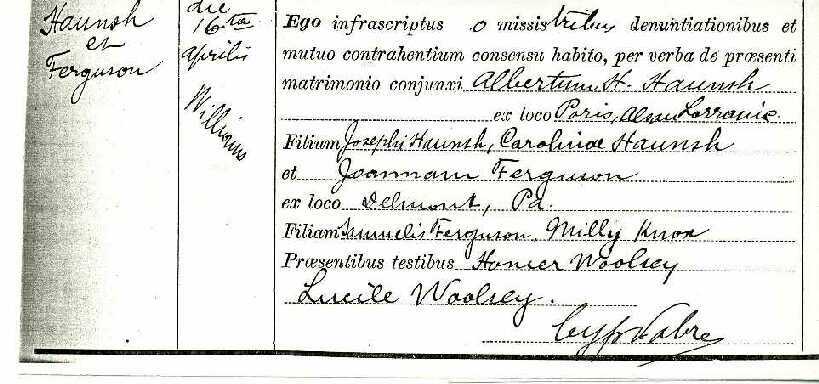 Albrecht married Jean (Joanna) Ferguson 1914 in Williams, Coconino Co. Arizona, daughter from Samuel Ferguson and Millie (Milly) nee Knox, all from Armstrong Co. and Westmoreland Co. Pennsylvania.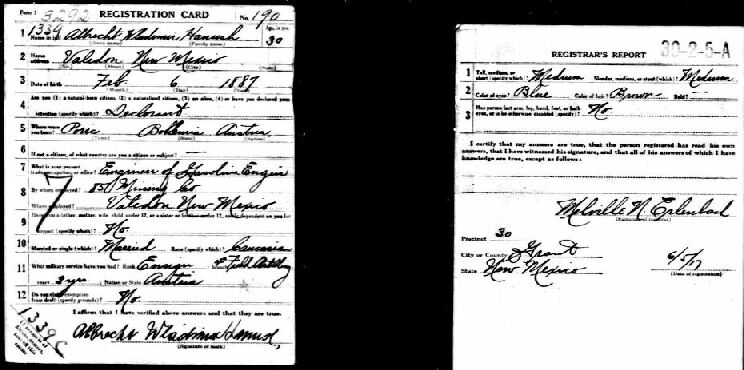 Albrecht's Draft Card filled in Grant Co. New Mexico. He was engineer by an mining corporation in Valedon New Mexico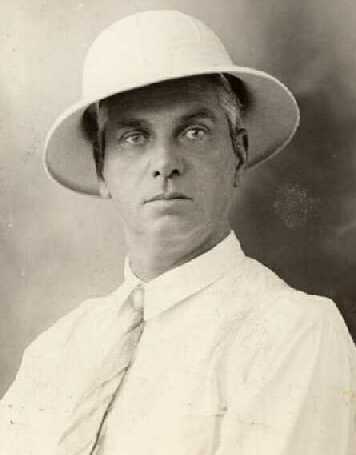 Albrecht was seeming also as engineer in Scotia, Humboldt Co. California anytime between 1917 and 1925.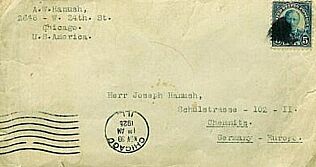 Albrecht lived seeming since 1925 in Chicago, Illinois at 2648 W 24th St. Later 3050 South Millard Avenue and lastly 4137 Anna Avenue in Lyons.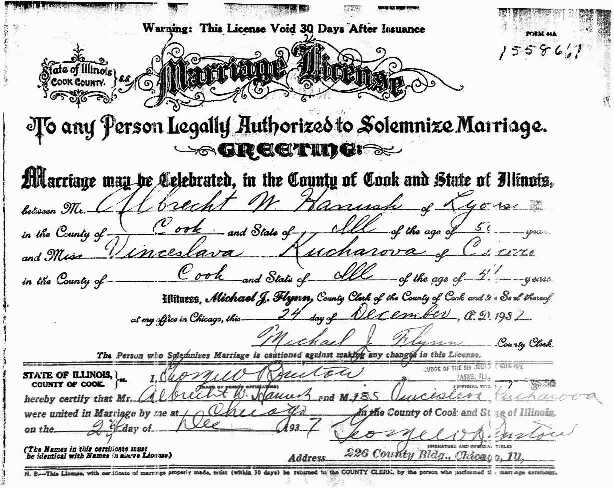 Albrecht married his second wife Venceslava Kucharova at 24. December 1937 in Chicago.
Venceslava Kucharova b. 19. Nov 1896 in Prague (Prag), arrived 11. December 1937 in New York. Look
ship list, naturalization, death record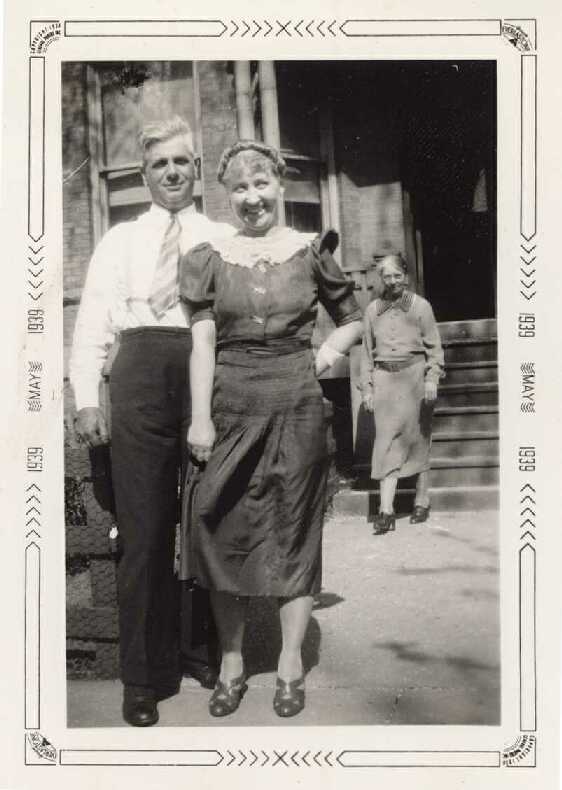 An picture from Albrecht and Venceslava 1939 in Chicago. Venceslava worked seeming by the Riker's Laboratorium Inc. at this time.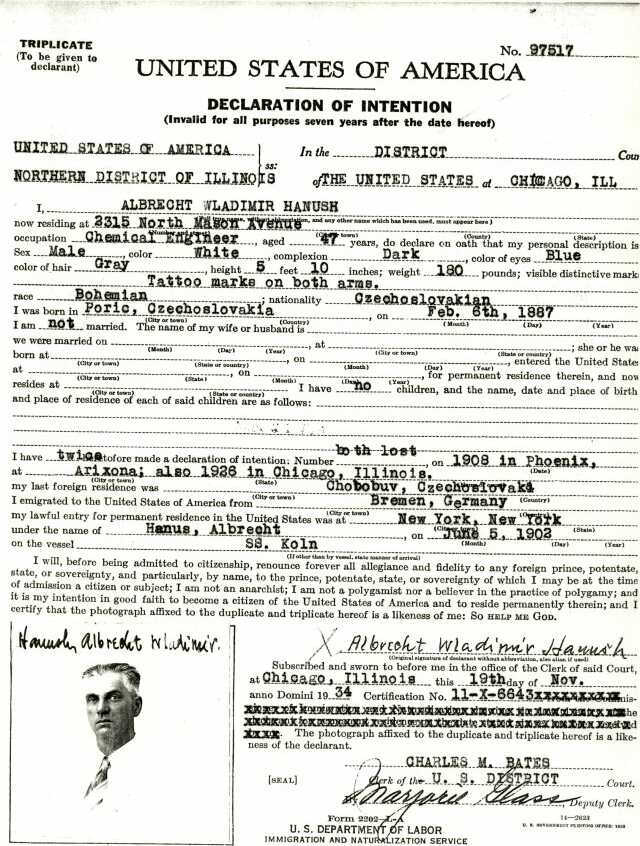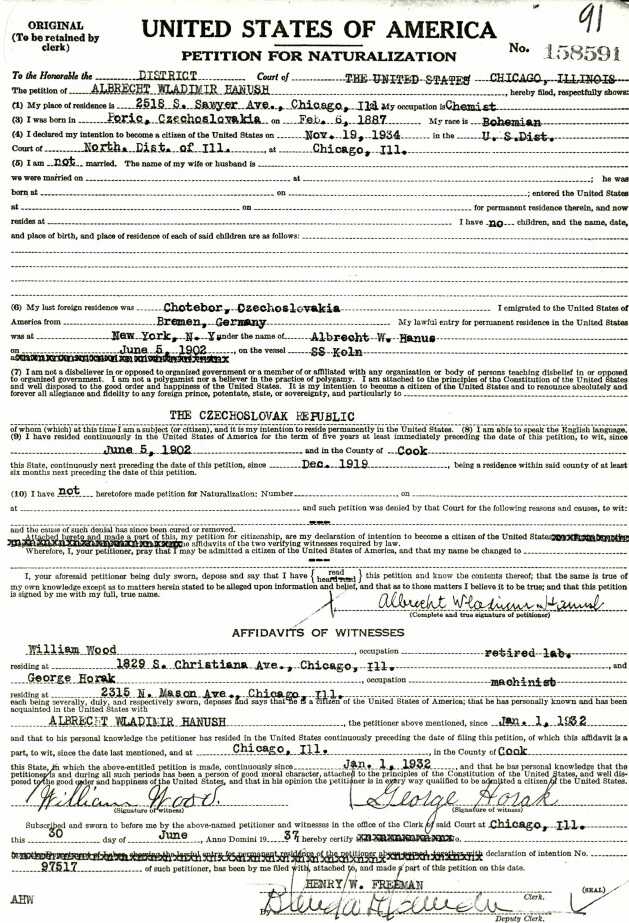 Petition for Naturalization filled 19. Nov 1934 in Chicago.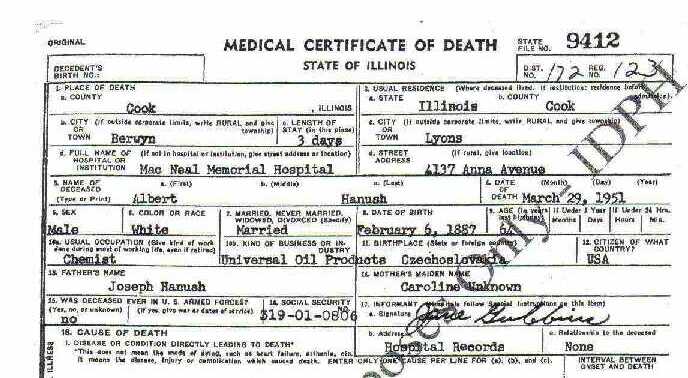 Albrecht died 29. March 1951 in the Mac Neal Memorial Hospital and was burnt at the Woodlawn cemetery, Forest Park, Chicago.

I would be gald to hear from someone, who has maybe informations about him and his wife.

The other Hanusch Connection and Problems
| Home | Kuchar USA | Lookups | Old Certificates | Email |